Equipment
Getting on the green
---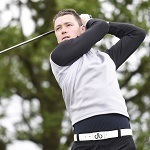 Michael Boyle
Head PGA Professional Ashton-under-Lyne Golf Club
---
You've missed the green… Now what? Your instinct might be to limit damage, getting it on the green and only dropping the one shot. But why can't you attack the hole? Maybe you've found a tricky lie or you simply don't have the tools for the job.
We can change that by adding some bite to your wedge game. As the name suggests, the JAWS grooves in Callaway's Mack Daddy CB wedges are a great place to start. The sharp, tight grooves maximise spin, with grooves covering the entire face in 54 through to 60-degree lofts. These full-face grooves in the high-lofted wedges gives you the ability to open up that clubface and get out of deep rough or bunkers better than ever before.
Having a deep cavity back, along with the thick topline & slightly larger clubhead, gives you astounding levels of confidence as you stand over the ball. Just knowing the wedge is packed full of forgiveness will inspire you to hit the ball close.
If you like what you hear and want to give these a try, pop by the shop and we'll be happy to help!